Keto Butter Cake with Vanilla Glaze
He all my Keto Paleo followers. We have another great recipe submitted by Ketogenic in the Kitchen Stacie Phillips. Take a look. (FYI Keto Pumpkin Spice Latte Recipe here)
 
Cake:
1 cup butter, room temperature
2 cups Swerve granulated sugar
4 eggs
2 tablespoons vanilla extract
3 cups almond flour
Dash of sea salt
1 teaspoon baking soda
1 teaspoon baking powder
1 cup buttermilk
Glaze:
1/3 cup butter
¾ cup Swerve confectioners' sugar
1-2 tablespoons water
1 tablespoon vanilla extract
1 scoop Quest coconut oil powder (optional)
Preheat oven to 325 degrees.
Beat butter, sugar, and vanilla. Slowly add one egg at a time.
Slowly add remaining ingredients.
Grease a Bundt pan and pour batter into pan. Bake for 45 minutes or until toothpick comes out clean in the center.
Melt butter in a dish and add remaining ingredients for the glaze. Mix until dissolved and smooth.
Poke holes into cake and pour glaze over the cake until covered. Let stand until cake and glaze are completely cooled.
Flip cake onto dish and serve.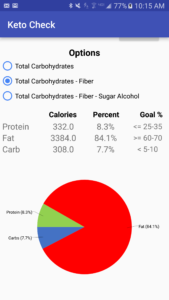 Recipe Submitted by Stacie Phillips from Howell, MI. You can see more of her recipes at….
YouTube: Stacie Phillips
Email: [email protected]
Instagram: ketogenicinthekitchen