Keto No Bake Cookies
(Makes 15)
1 stick of butter
1 cup of natural peanut butter
1 cup of erythritol
2/3 cup of unsweetened cocoa powder or 5 oz. unsweetened cocoa bar
1 cup of pecans, chopped
1 cup of unsweetened shredded coconut
1 tablespoon of vanilla
1.Place butter and peanut butter in a microwave safe bowl and melt completely.
2.Add remaining ingredients and allow to cool slightly. Just until it starts to firm. This will take a bit longer if using a cocoa bar instead of cocoa powder.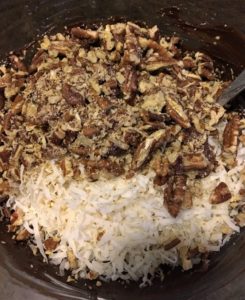 3.Drop by the spoonful onto parchment paper.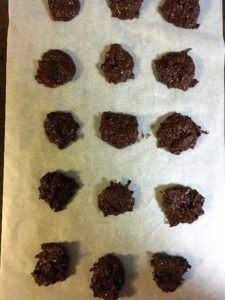 4.Allow to set up in the refrigerator until firm. This will take approximately 1 hour.
———————————————————————————————————
Recipe Submitted by Stacie Phillips from Howell, MI. You can see more of her recipes at….
YouTube: Stacie Phillips
Email: [email protected]
Instagram: ketogenicinthekitchen